Fishing & Birds

FISHING
Our beautiful black soil plains are threaded with a network of creeks, rivers, billabongs and wetlands providing fabulous places to dangle a line. There's easy access to wonderful spots throughout the Shire whether you're looking for a morning's fishing or a whole weekend of relaxation in the country. You could snare a Silver Perch, Golden Perch or Eel-Tail Catfish or even a glorious Murray Cod. If you've never tasted a Yabbie, here's your chance. Pop in a Yabbie trap and get ready for a shellfish meal you'll long remember.
Moree has all your fishing needs covered with our outdoor and fishing retail outlets. The friendly local staff will fit you out with rods, reels, bait, camping equipment as well as tips, hints and the location of the best spots to head to. There are fishing competitions held at various times of the year, just ask Moree Visitor Information Centre staff for details.
PLEASE NOTE: NSW Fishing Regulations do apply to licensing, bag limits and fish sizes for both fish and yabbies. NSW Recreational Fishing Rules and Regulations

Hardman Windscreens & Outdoors
435 Frome St, Moree
P: (02) 6752 1066
E: admin@hardmanmoree.com.au
BIRDS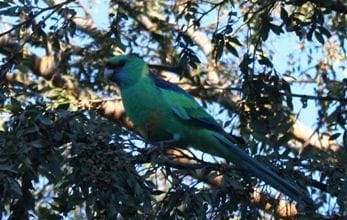 Above: Malee Ringneck resting in the tree outside Moree Visitor Information Centre.
Moree Plains Shire offers avid ornithologists a chance to view a colourful and interesting array of seasonal & migratory birds. Brilliantly coloured parrots decorate the landscape and can be found almost anywhere in the Moree Plains Shire. Lagoons and irrigation channels give rise to many species of waterfowl with the occasional Brolga or Black-necked Stork being seen in the area.
Tourism Moree can provide a pamphlet regarding local listings of over 180 Birds of Moree & District (compiled by local bird watching group), and also a Map of Moree Bird Routes entitled The Wetlands Loop, Watercourse and Gingham Roads (compiled by DEHW).
Travellers to Boomi district will be able to trek the Boomi Walking Trails. Emus and Red-tailed Black Cockatoos are just two species of bird that you may encounter whilst in Boomi. Bush tucker and bush medicinal plants may also be identified when treking the Boomi Walking Trails. Brochures for this walk are available at the Boomi Community Co-operative Ltd., Boomi Street Boomi.
Below: Brolgas in a wheat paddock with Angus cattle.