Moree Plains Artesian Pools
Moree Artesian Aquatic Centre
Do as little or as much as you like at the Moree Artesian Aquatic Centre (MAAC), Moree's major tourist attraction home of the Artesian Water, FINA Standard Olympic Pool, Commercial Gym, 10m high Waterslide and Children's Waterpark. Or Take the time to relax, re-energise and recuperate at the newly developed Moree Artesian Wellness & Day Spa.
We all know that soaking in our Artesian pools leaves you feeling amazing - ever wondered why?
There is a growing bank of research evidence backing up the century old health claims associated with bathing in mineral waters - Balneology is the scientific study of the therapeutic benefits of naturally occurring mineral waters. In Australia, this science is not very well known, and is even less seldom practised.
Balneotherapy allows for the transdermal absorption of varied minerals such as sulphur and magnesium typically found in Artesian water. These minerals are said to nourish the organs of the body and in turn aid the body to fight illness and repair tissue damage.
It is of common belief that balneotherapy can help with many health conditions including arthritis, musculoskeletal pain and respiratory disorders.
Click here to see our promotional video, catch a glimpse of what's on offer at
our incredible Moree Artesian Aquatic Centre.
MAAC features:
Artesian spas with soothing mineral-rich naturally heated water
FINA Standard Olympic Pool
Commercial Gym
10m High Waterslide
Childrens Waterpark
Café
Group Fitness
MAW Wellness Centre features:
Artesian Soak & Sauna Retreat
Massage
Facials
Body Treatments
Manicures & Pedicures
Why not come and try it for yourself, the Centre is open daily, closing only on Christmas Day and the last week of July each year.
Operating Times:
Monday - Friday: 6am-8pm
Saturday & Sunday: 7am-7pm

(Please note we have annual maintenance shut down period for 1 week, usually in July/August, please enquire before you plan your visit, we don't want you to miss out.)
Casual Visit Fees
Adult: $9.00
Concession: $6.80
Family (2 Adults & 2 Children): $28.50
Day passes and mulitple visit passes avaliable.
Wellnes Retreat, Gym & Swim, Group Fitness and Extras avaliable.
For more information please contact:
Moree Artesian Aquatic Centre
20 Anne Street, Moree NSW 2400
Phone: (02) 6752 2272
Web: www.maacltd.com
Email: info@maacltd.com
(Below: There are two Hot Artesian pools - both being designed to account for the differing requirements of patrons.)
Mungindi Swimming Pool Complex
---

Rest and rejuvenate in an ambience created by nature at the Mungindi Swimming Pool Complex. Located 120km north west of Moree on the Carnarvon Highway come and enjoy our local hospitality!
Facility also includes a 33m cold pool and a small toddler's pool. Opening Hours are varied with each season, so please enquire at Moree Tourism for opening hours.
New Winter Times

Monday - Saturday: 7.30am - 12.00pm

Sunday: 2.00pm - 5.00pm

Summer Times

Monday: 6:30am - 8am; 10:30am - 2pm; 3pm - 7pm

Tuesday: Closed

Wednesday: 10:30am - 2pm; 3pm - 7pm

Thursday: 6:30am - 8am; 10:30am - 2pm; 3pm - 7pm

Friday: 10:30am - 2pm; 3pm - 7pm

Saturday:10:30am - 2pm; 3pm - 7pm

Sunday: 11:30am - 2pm; 3pm - 7pm


Entry Prices:

Adult- $4.50; Child- $3.50; Under 3- Free

Mungindi Swimming Pool Complex

Bucknell St,
Mungindi NSW 2406
Phone: (02) 6753 2389
---
Boomi Artesian Spa and Pool
Located in the quiet village of Boomi approximately 90km North West of Moree and 80km west of Goondiwindi is the quiet and uncrowded Boomi spa and swimming pool complex.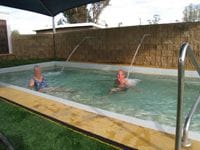 It is a terrific place to relax either in the water, on a poolside lounge or on the lush green lawn under the shade sails.
Boomi hosts a 25m cold pool; wading pool and a hot Artesian spa pool. Hot Artesian water is also added to the cold pool to help reduce the shivers a little! The mineral rich hot water flows from nearly a mile underground from the Great Artesian Basin.
Disabled toilet/shower facilities available. BBQ and tennis court right next door.
Winter Operating Hours:
9am - 12pm and 2pm - 5pm
Summer Operating Hours:
Weekdays: 1pm-6pm
Weekends: 12pm-6pm
Entry prices:
Adults- $5.00; Children- $3.00; Under 3- Free
For Summer opening times and fees, please contact the Pool Superintendant on (02) 6753 5336.